Texas ROSE: Some Retail Provider Fees Appear To "Violate State Law"

ROSE Seeks Cap On REP Fees, Standardization

February 19, 2019

Email This Story
Copyright 2010-19 EnergyChoiceMatters.com
Reporting by Paul Ring • ring@energychoicematters.com
The following story is brought free of charge to readers by EC Infosystems, the exclusive EDI provider of EnergyChoiceMatters.com


Texas Ratepayers Organization to Save Energy (ROSE) released a report on fees charged by retail electric providers in the Texas market, stating that, "[s]ome of the reviewed REP fees appear to violate state law."
In its report, ROSE stated, "Some of the reviewed REP fees appear to violate state law. At least one REP charges a $400 credit deposit contrary to the Commission's customer protection rules. Several REPs charge insufficient fund fees in excess of the state law cap of $30.00 [Texas Business & Commerce Code, Section 3.506.]. Some REPs charge same day reconnection fees when standard reconnections are already done on the same day, giving rise to legality challenges under PURA §17.004 and §39.101, which prohibit 'unfair, misleading, and fraudulent' REP activities."
In the narrative section of its report, ROSE did not identify the REPs charging the fees listed above.
ROSE further said, "Many REP fees appear to be substantially above cost, challenging the presumption that competition will keep these fees reasonable. Additionally, the excessively high disconnection and reconnection fees that REPs charge make it more difficult for low-to-moderate consumers to maintain their service, raising public interest concerns."
ROSE called for the following changes, including a cap on REP fees:
Recommendations:

Transparency

1. The Commission [PUC] should require REPs to post all their non-recurring fees and/or charges within their TOS documents in a standardized format and in one standardized location.

2. The Commission should standardize and define REP fees to ensure customers can comparison shop and to ensure their customers are on notice of what actions result in what REP fee and the amount.

3. The Commission should require each REP to post all of its product offerings on its website in a standardized location.

4. The Commission should require REPs to annually report their REP fee revenues and costs for each fee charged. As the US Department of Transportation publically [sic] reports the amount of airline revenue collected from baggage fees, the Commission should aggregate the REP fee revenues and costs by REP fee and publish the data annually for public use.

5. The Commission should educate the public about REP fees on its Power to Choose Website and provide a link to the standardized definitions of REP fees approved by the Commission.

Excessive Fees

6. The Commission should compare the breadth and amounts of REP fees with reciprocal non-recurring fees in the existing monopoly market. On completion of these comparisons, the Commission should determine whether each of the REP fees should be continued or prohibited; and if continued, whether the REP fee should be capped.

7. The Commission should prohibit REP fees for termination of service notices required under the customer protection rules.

8. The Commission should prohibit REPs from charging disconnection and reconnection related fees that are in excess of the reciprocal TDU disconnection and reconnection related fees.

State Law Violations

9. Commission should review each REP fee to determine whether the fee is fraudulent, unfair, misleading, deceptive, anticompetitive or in violation of some other state or federal law. Should the Commission find a REP fee in violation of state or federal law, the Commission should bring enforcement actions against the REPs charging such illegal fee. Further, the Commission should prohibit REPs from charging such illegal fees.
ROSE said that, "This report found that the number of different types of fees a REP charged their consumers varied from one to nineteen. In the course of conducting research into these fees, it became apparent that there was no practical way for the average consumer to compare the actual cost of the service to the amount they are being charged by their REP. This information is vital to consumers so they can ensure the fees they are being charged are fair and reasonable."
ROSE said that, "REP websites also fail to identify all products that REPs are offering to the public. Some products offered by REPs are neither offered through their website or on the Texas Public Utilities' market website called 'Power to Choose'. The same REP can offer some plans on the Power to Choose website, different plans on their own website, and even more options if you call them directly. In some cases, the 'green' plans using (some or all) renewable energy are difficult or impossible to find."
ROSE said that REPs are charging disconnection/reconnection fees in addition to applicable TDU disconnection/reconnection fees charged to the REP to perform such service.
ROSE listed REPs with the highest disconnection/reconnection fees as shown below. The charges shown below do not include the TDU charges, only REP fees. ROSE noted that approximately 15 REPs do not charge their own disconnection/reconnection fee
Note: all data in the charts is as reported by ROSE. EnergyChoiceMatters.com make no averment to the data's accuracy.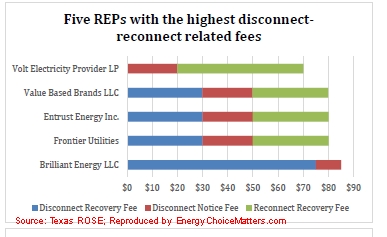 ROSE also listed a chart showing the most common types of fees the five REPs with the highest fees charge; the top 17 REPs with the highest number of different REP fees, a chart showing the median amount for each REP fee, the total amount of fees charged by REPs for the top five and lowest five, as shown below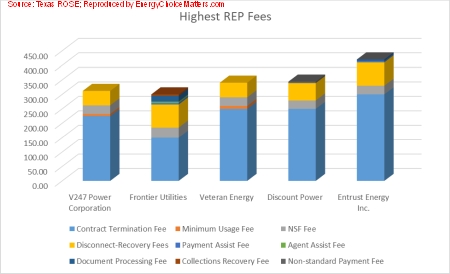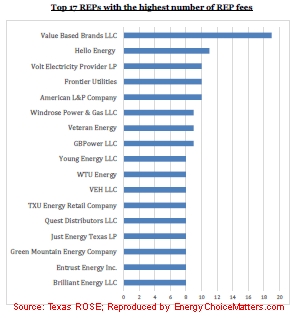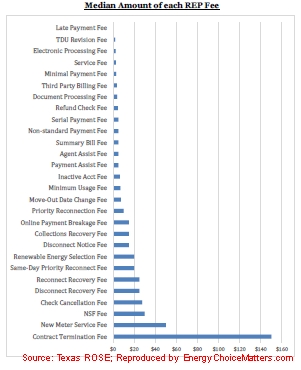 ROSE's report contains numerous additional comparisons and information about fees charged by REPs, including a comprehensive list of every fee charged by each REP
See the ROSE report here
ADVERTISEMENT
NEW Jobs on RetailEnergyJobs.com:
• NEW! -- Chief Operating Officer -- Retail Supplier
• NEW! -- Retail Energy Channel Manager -- Retail Supplier
• NEW! -- Energy Sales Broker
• Business Development Manager -- Retail Supplier -- Houston
• Business Development Manager

Email This Story
Copyright 2010-16 Energy Choice Matters. If you wish to share this story, please email or post the website link; unauthorized copying, retransmission, or republication prohibited.